Ingate Solutions
Ingate understands that global, interoperable presence, messaging, VoIP and audio/video conferencing are powerful business tools that enable enterprises to maintain contant contact with both internal and external stakeholders.
Ingate enterprise calls security technology is implemented around the world in different scenarios.
The Ingate enterprise platforms makes secure unified- and SIP communication possible while working seamlessly with your existing network firewall to allow the traversal of SIP traffic through the enterprise edge. The issue of SIP traffic not traversing the enterprise firewall or NAT is critical to any SIP implementation, including VoIP. In order for SIP to work effectively, the SIP NAT issue must be resolved, and that's where the Session Border Element such as the SIP Firewalls and SIParators offered by Ingate, are very important for enabling SIP services to an enterprise network.
Read more->
Ingate's Enterprise Session Border Controllers (E-SBCs) enable a seamless transition to SIP and Unified Communications. Ingate E-SBCs ensure integration between the PBX and all major Internet Telephony Service Providers (ITSPs), including SIP trunking service providers, for fast, simplified deployments. They apply enterprise-class security features to every installation with support for NAT and PAT as well as TLS and SRTP to encrypt the SIP signaling and media, eliminating the security issue most commonly associated with using enterprise VoIP.
With an Ingate product at the customer network edge, Internet Telephony Service Provider (ITSP) can interface with any SIP-enabled IP-PBX, eliminating the need to achieve interoperability with every IP-PBX vendor and address the widest number of customers. Ingate Firewalls and SIParators serve as a "normalization engine" between the IP-PBX and ITSP, paving the way for a successful SIP trunk roll-out.
For enterprises wanting to make full use of their installed IP-PBXs and not only communicate over IP within the enterprise, but also outside the LAN, the Ingate SIP Trunking software module offers an easy and smooth transition to a modern and future-proofed SIP trunk solution. Using Ingate's advanced routing technology, the SIP Trunking module provide seamless connectivity between an enterprise IP-PBX and a SIP trunk.
The most common solution for enterprises with a local IP-PBX to connect to the PSTN is via a local PSTN gateway. However, today more and more service providers offer one single connection for both data and voice between the carrier and the enterprise. This is commonly called a SIP trunk.
An Ingate Systems platform can easily be integrated to your enterprises network as the standard base solutions of Ingate Systems are fully compliant with the SIP standard and interoperable with most major suppliers of SIP products and UC systems.
Ingate's SIParator/Firewall is required to connect IP-PBXs to the Exchange UM component of Microsoft Office 365 for Voice Mail and IVR. Ingate's SIParator provides the SIP connectivity to your PBX, handles the NAT/Firewall traversal and add a secure tunnel via TLS and SRTP to the Office 365 Service.
Ingate's E-SBC solutions ensures a secure and reliable use of Microsoft® Lync® applications by handling the connection between the SIP trunking service and the Microsoft® environment. The Ingate E-SBC resolves interoperability issues between the SIP Trunk provider, other on-premises equipment and the Microsoft® Lync® server, paving the way for a fast, simplified installation.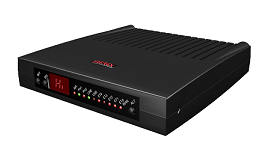 Ingate IX78 E-SBC for Volume Deployments
The Ingate IX78 E-SBC is an access router, firewall and session border controller specifically designed to be a part of an Internet telephony service provider's hosted VoIP or SIP trunk offering for small and medium businesses. It handles up to 50 simultaneous voice calls, has support for the widest range of IP-PBXs and is easily installed using a Web-based Wizard. Presentation. IX78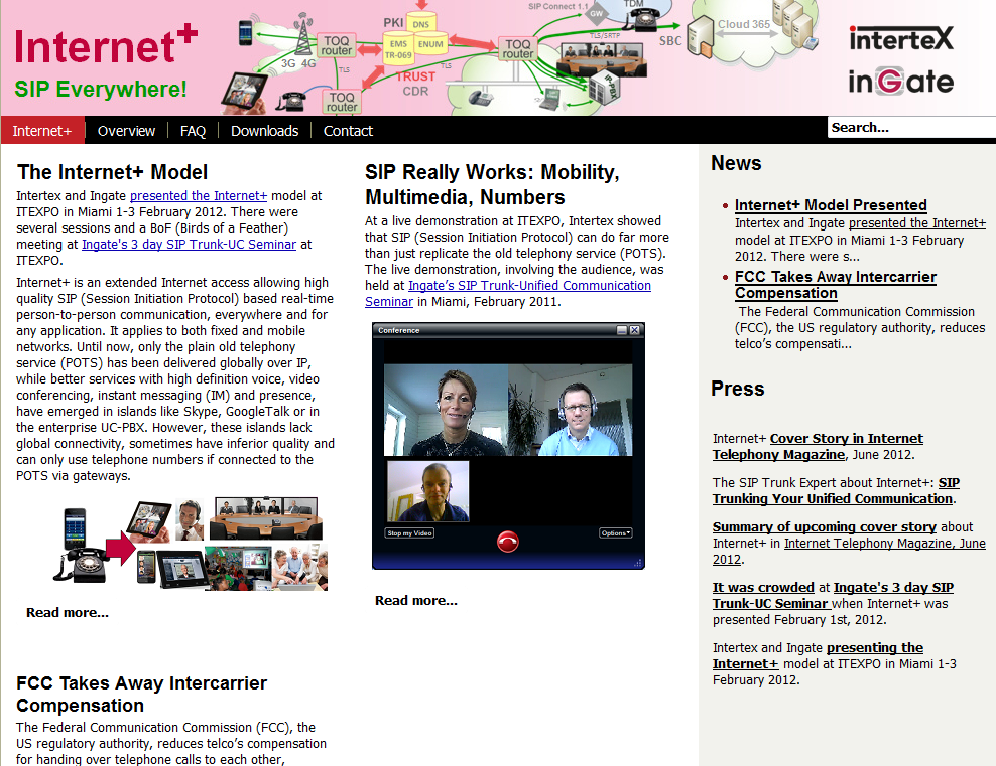 Internet +
Ingate and its sister company Intertex have presented a radically new and easy to deploy way for a Global Unified Communication, the Internet+. Brief: An Internet+ Model For Global Unified Communication Presentation: Overview of an Internet+ model. Both TOQrouter products and TR-069 Element management System are available.