Thank you for visiting Ingate at the Real-Time Web Solutions Conference

We want to thank everyone who visited Ingate at the Real-Time Web Solutions Conference & Expo, August 2016, in New York City.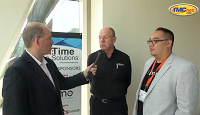 We recently stated that Primo selected Ingate's WebRTC Solutions for their Mobile Phone App Primo Connect.
Watch a video interview
from the event, where Steve Johnson at Ingate and Jonathan Lin at Primo, talks about their collaboration, and this new way of communication, in which Primo uses Ingate as the driving engine.
If you have any questions, please contact
info@ingate.com
Ingate will be at Enterprise Connect, March 7-10, 2016 at the Gaylord Palms in Orlando, FL. Visit the team at booth 1043 or email sales@ingate.com to schedule an appointment. Click here to register now.
Ingate's SIP Trunking, UC & WebRTC Seminars at ITEXPO
Presentations and Interviews


The presentations from the seminar can be found
here.
Watch video interview
with Christian Wannerwall, Marketing at Ingate Systems, talking about Ingate's participation at ITEXPO, Ingate´s products and some of the trends shaping UC today.
here
to see Khris Kendrick, VP of business development, talk about ITEXPO and how Ingate is developing and taking on new partners.
New Software Release,
Version 5.0.10
We are happy to announce the release of the new software version 5.0.10, which contains stability, security and interoperability improvements. For the best performance we recommend everyone with an Ingate Firewall/SIParator product to upgrade to the latest software version. The new software can be downloaded by signing in. For more information please view the release notes
here
.
Ingate Systems Upgrades E-SBC Product Line with New SIParator, Higher Capacities, More Features and a Buy-What-You-Need Licensing Structure and Growth Path.
Click here to read more
Live Webinar: SIP Trunks for
Disaster Recovery
Launch Recorded Presentation Here

Webinar was held June 16, 2015
Olivier Hellberg, Sales Director EMEA, Asian and LatAm, visited Mitel Day in Beograd and presented the benefits of using an Ingate E-SBC for remote workers and security.
Ingate is well known for being compatible with Mitel and most other VoIP systems.
Click here
to read more about Secure Connections for Remote VoIP.
Click here
to see Ingate's list of interoperability partners.
Meet our team and let us demonstrate WebRTC applications you can't be without:
Click-to-dial at your website: The call center killer application
Easy-to-build clients from voice to multiparty video conferencing
Webinar:
The Changing Role of the SBC:
Case Studies
Watch the recorded webinar
here
Ingate Systems and eTechHelp Successfully Integrate Cisco and Microsoft Office 365 Cloud Environments for North Central Texas Council of Governments Click
here
to read more.
Webinar: Successfully Deploying SIP Trunking
Watch the recorded webinar with Ingate and Tadiran Telecom, featuring case studies and a Q&A on how to successfully deploy SIP trunking and UC.
View the webinar here.
View the Q&A here.
Ingate® Systems Certified with Virgin Media
Ingate Systems have completed successful interoperability tests and is now certified with Virgin Media according Virgin Media's requirements and test procedures of the SIP trunk service.


Ingate® Systems CEO Karl Stahl Honored as WebRTC Pioneer. Ingate CEO Karl Stahl has been recognized as a pioneer in the emerging WebRTC market at the WebRTC Conference & Expo IV. Click
here
to read more.
Videos From the WebRTC Conference & EXPO IV
Interview
with Ingate's US President Steven Johnson.
On stage demo
of the Ingate WebRTC & SIP PBX Companion by Ingate's CEO Karl Erik Ståhl.
The demo presentation