Ingate SIParators
The Ingate SIParator® is a device that connects to an existing firewall to seamlessly allow the traversal of SIP-based communications. Ingate SIParators are compatible with all existing firewalls and operating systems. Read more

Try our SIParator interface using http | https (cert warning)

Ingate Firewalls
Ingate Firewalls are the world's first fully SIP-capable enterprise firewalls, bringing SIP-communications including VoIP, presence, IM and conferencing securely to the enterprise LAN. Read more

Try Ingate
Free 30 days Trial
Try Ingate modules or our new Ingate Software Firewall/SIParator® free of charge for 30 days.
Ingate Products Secure: Not Affected by Heartbleed Security Issue Ingate Systems products have not contained and do not contain the version of OpenSSL that is vulnerable to the widely reported Heartbleed bug.

Compliant with

Swedish SIP trunk service provider, assisted by Ingate SBC, is now qualified for Microsoft®Lync® Server 2010 Ingate Systems has assisted an Internet telephony SIP trunking service provider using the Ingate SIParator®, SBC to acquire full qualification for connecting Microsoft® Lync® to its telephony services. Please read more in the press release
here
or go to
www.ingate.com/lync
.
Ingate Systems to Offer New Software-Only E-SBC
Enterprise-Class Session Border Controller Can be Installed on Virtual Machines or Many Supported Servers. Read more in the
Press Release
.
New SIParator® 97 New High-Capacity Enterprise Session Border Controllers from Ingate® Systems Handle 8,000 Concurrent VoIP Calls.
Click
here
to read more.
Ingate E-SBC certified with Aastra MX-ONE Ingate SIParator® tested and certified with Aastra MX-ONE 5.0, Teleworker solution. Read more in the
Press Release
or view the Ingate Partner Solution flyer
here.
Ingate and Microsoft Exchange Online Unified Messaging
Ingate SIParator® E-SBC has completed successful interoperability testing with Microsoft Exchange Online UM.
Read more in the
Press Release.
Read the
Configuration Note.
View a list of our
Interop tested IP-PBXs.
Dr. VoIP on setting up SIP trunks with Ingate's SIParator
Read Dr. VoIP's blog, and view the demo, on setting up SIP trunks with Ingate's SIParator and ShoreTel.
DrVoIP ->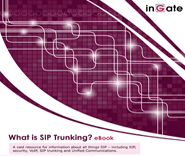 What is SIP Trunking? New eBook from Ingate.
Download edition 1 for free
Download edition 2 for free