Ingate Recognized as Gazelle
in Dagens Industri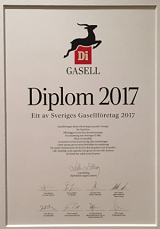 Ingate Systems was recognized in Dagens Industri Di Gasell business growth awards, in which Dagens Industri profiled established companies that at least doubled their growth for the past four years, and at the same time had organic growth and healthy finances. The list is published in the
December Issue of Dagens Industri.
Software Release 6.1.2
Release 6.1.2 of the Ingate SIParator® /Firewall is now available for the Ingate SIParator. For best performance we recommend everyone with an Ingate Firewall/SIParator product to upgrade to the latest software version.
Please
login here
, to review the release notes and download the latest version.
Ingate SIParators not Affected
by the Meltdown and Spectre
Security Issues

Ingate products are already very resilient against the newly discovered Meltdown and Spectre vulnerabilities, since we do not allow external processes to execute on the CPU used for our firewall products (like the SIParator SBC and firewall). Ingate will continue to follow remedies being developed for the Meltdown and Spectre root issues and include relevant fixes in coming Ingate software upgrades and continue to offer the most secure and stable telecommunication and firewall products.


Ingate available for
Amason Web Services, Open Stack and Microsoft Azure
Podcast: Ingate's SIParator SBC RTS-FW Available for AWS (Amazon Web Services), OpenStack (NFV) and Microsoft Azure Select Projects
Listen here
WebRTC - Disruptive Technology or Hype? Ingate interview on E-Tech-TV
Watch
video interview
with Steven Johnson, President at Ingate Inc., talking about the state of WebRTC today.
Ingate's SIP Trunking, UC & WebRTC Seminars at ITEXPO
Presentations and Interviews


The presentations from the seminar can be found
here.
Watch video interview
with Christian Wannerwall, Marketing at Ingate Systems, talking about Ingate's participation at ITEXPO, Ingate´s products and some of the trends shaping UC today.
Ingate® Systems CEO Karl Stahl Honored as WebRTC Pioneer.
Ingate CEO Karl Stahl has been recognized as a pioneer in the emerging WebRTC market at the WebRTC Conference & Expo IV. Click
here
to read more.