Visit Ingate's SIP Trunking, UC and WebRTC Seminars at ITEXPO West
August 11-14, 2014
The Rio, Las Vegas, NV, USA

Ingate® Systems CEO Karl Stahl Honored as WebRTC Pioneer. Ingate CEO Karl Stahl has been recognized as a pioneer in the emerging WebRTC market at the WebRTC Conference & Expo IV. Click
here
to read more.
Videos From the WebRTC Conference & EXPO IV
Interview
with Ingate's US President Steven Johnson.
On stage demo
of the Ingate WebRTC & SIP PBX Companion by Ingate's CEO Karl Erik Ståhl.
The demo presentation
New Software Release,
Version 5.0.3 We are happy to announce the release of the new software version 5.0.3, which contains stability and security improvements. For the best performance we recommend everyone with an Ingate Firewall/SIParator product to upgrade to the latest software version. The new software can be downloaded by signing in. For more information please view the release notes
here
.
Webinar: "Ask the Expert: SIP Trunking and WebRTC"
Learn how SIP trunking lowers operating costs, and find out how WebRTC can be a game-changer for call centers, enterprises and service providers. A Q&A in which you can ask all about SIP trunking, WebRTC and UC.
Click
here
to read more.
Meet the Ingate team at:
Interactive Intelligence Conference
June 2-5, 2014
JW Marriott, Indianapolis, USA
info@ingate.com
Ingate WebRTC Conference & Expo
June 17-19, 2014
Atlanta, GA, USA
Click here
to learn more about the content.
Webinar: "Your Mobile Workforce"
CounterPath and Ingate have partnered up to deliver a solution that enables customers to securely manage and control voice communication, video, IM and presence of employees anywhere in the world.
Thu, May 8, 1:30 PM - 2:30 PM EDT
Click
here
to read more or to register
Ingate Products Secure: Not Affected by Heartbleed Security Issue Ingate Systems products have not contained and do not contain the version of OpenSSL that is vulnerable to the widely reported Heartbleed bug.

Miami heats up with Ingate's SIP Trunking, UC & WebRTC Seminars at ITEXPO Miami, 2014.
Click
here
to read more.
Click
here to see the presentations from the seminars.
Brochure of
Ingate's WebRTC related products in progress.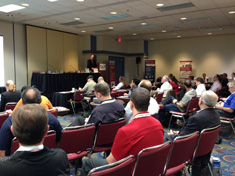 Ingate presence at ITEXPO
Las Vegas 2013
Click here
to see Ingate's participation in the main ITEXPO conference and Ingate's WebRTC and Internet+ activities
Presentations
from Ingate's popular 3-day
SIP Trunking-UC Seminars
are now available.
Ingate at the Web RTC conference in Atlanta, GA, June, 25-27, 2013.
Click
here to see the video where the Ingate CEO/CTO Karl Erik Ståhl talks about Ingate and WebRTC.
Svenska Dagbladet Näringsliv
Artikel om Ingates emission
2013-04-27.
Download and view the Webinar: "Achieving ROI with SIP Trunking" from January 17
here
. Presenters are S. Johnson, Ingate Systems Inc. and C. Studt, IntelePeer.
SIParator Certification with the SIP School Ingate to Offer Online Training, SIParator Certification with The SIP School.
Read More.
Internet+, The Way Toward Global Unified Communication
Ingate and
Intertex
presents the Internet+
Brief: "
An Internet+ Model for Global Unified Communication
"
Presentation: "
Overview of an Internet+ model.
"
Read more

Many Successful Office 365 Installations
Ingate's SIParator/Firewall is required to connect IP-PBXs to the Exchange UM component of Microsoft Office 365 for Voice Mail and IVR. After Microsoft's interop-testing and
application note
, Ingate has rapidly been deployed with a
variety of IP-PBXs
.
See
Ingate SIParator with Microsoft Office 365 datasheet