Enterprise Session Border Controllers (E-SBCs)
The Ingate SIParator® is a powerful, flexible and cost-effective Enterprise Session Border Controller (E-SBC) for SIP connectivity, security and interoperability, such as connecting PBXs and Unified Communications (UC) solutions to SIP trunking service providers.



If you wish to get more info, please enter your email and we will get back to you.

The Ingate Firewall®, which is always included in the product, makes the Ingate SIParator an all-in-one appliance for data security as well as session border control.

The SIParator simplifies SIP trunking and makes it easy to connect remote UC end points, aggregate SIP trunks and distribute sessions between sites and service delivery points. It's utilized for Real-Time communications security, SIP interoperability and extensive connectivity. The SIParator® is compatible with all existing networks and comes with a standard SIP proxy and a SIP registrar. It has support for NAT and PAT as well as for TLS and SRTP to encrypt both SIP signaling and media, eliminating the security issue most commonly associated with using enterprise VoIP.

Ingate's SIParators®/Firewalls® are available in a range of models: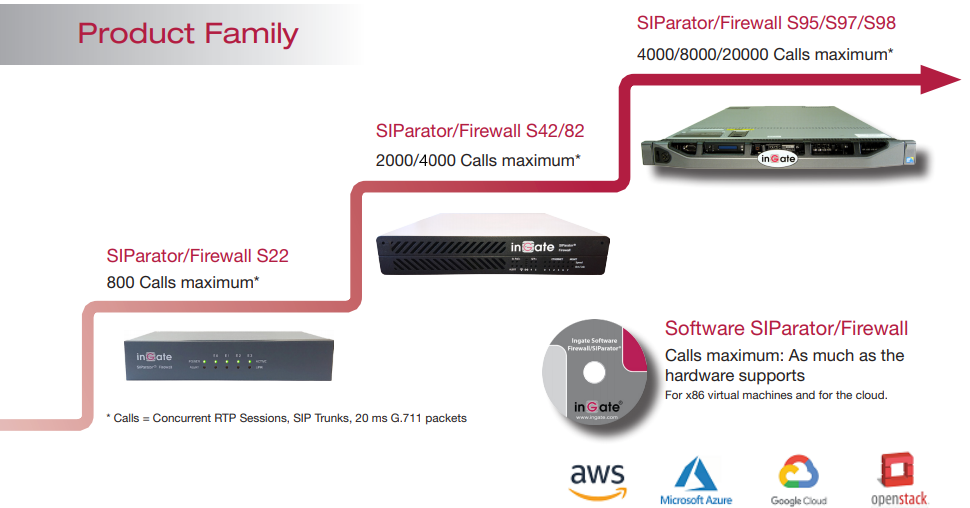 The flexible system of add-on licenses allows any enterprise to enhance the SIParator®/Firewall® solution to meet their needs at any given moment.

With more than 10,000 installations worldwide, the Ingate SIParator® comes in a wide range of capacities, and has been used by retail companies, financial institutions, industrial firms, government agencies, call centers and small-to-large enterprises.
For any questions, free trials or offers, please contact us today.