Ingate Products
Ingate's security technology dates back to 1996, and since 2001 SIP has been in focus when designing our award winning firewall products, making Ingate the only choice for enterprises planning for a secure, flexible and interoperable communication solution. Ingate products are a perfect fit for any SIP based VoIP/UC installation.
Ingate E-SBC
Ingate's SIParators®/Firewalls® are Enterprise Session Border Controllers (E-SBCs) compatible with all existing networks and comes with a standard SIP proxy and a SIP registrar. They have support for NAT and PAT as well as for TLS and SRTP to encrypt both SIP signaling and media, eliminating the security issue most commonly associated with using enterprise VoIP. Ingate Firewall and SIParator® is now also available as a software version, the Software Firewall/SIParator® which offers the same security and SIP-enabling functionality found in Ingate's hardware-based E-SBCs. The software can be installed on customers own servers (or integrated with IP-PBXs or media gateways) or used as a virtualized application. The Software Firewall/ SIParator® is intended for IP-PBX vendors, system integrators and customers deploying a large number of Ingate products on their own hardware platform.
Ingate E-SBCs comes in a range of sizes to meet enterprise needs from home office to large enterprise and have been cited by users and media for ease of use.
The flexible system of add-on licenses allows any enterprise to create the Firewall/SIParator® solution that exactly fits the need of the company for the moment.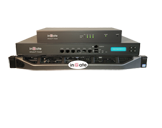 Ingate SIParator®/Firewall®
The SIParator®/Firewall® is a device that connects to an existing firewall to seamlessly allow the traversal of SIP-based communications. It is cost effective and compatible with all existing firewalls and operating systems.

It prevents unauthorized access to and from enterprise networks. All messages entering and leaving the network are routed through the SIParator®/Firewall®, which examines each packet and blocks those not explicitly authorized to pass.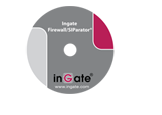 Ingate Software Firewall/SIParator®
Ingate's Software Firewall/SIParator® is the software version of Ingate's E-SBCs, - the solution for enterprises that want to deploy Ingate products on their own hardware platforms. The Software Firewalls/SIParators® are available in a range of models to meet the needs of the entire enterprise market.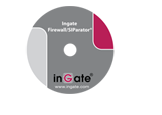 Ingate Modules and Licenses
Ingate's included features and the flexible licensing system give any enterprise the flexibility to create the firewall/SIParator that solves their specific need for the moment. All licenses can be added at any time.