How Ingate SIParators Work
Ingate's SIP-enabling SIParators are connected to an existing enterprise firewall to seamlessly and effortlessly enabling the secure traversal of SIP-based communications. There is a variety of configurations to choose from.
The Ingate SIParator®: Designed for Dynamic Enterprise Needs
The Ingate SIParator® can be configured in three different ways, ensuring its compatibility with any commercially available firewall product.
Configuration 1
Single leg/DMZ only
Firewall logs all activity

Configuration 2
DMZ/LAN
Reduced load on firewall

Configuration 3
Two legged/Standalone
SIP traffic separate from data traffic
SIP traversal for an incoming session of an Ingate SIParator® (image below):
SIP signaling/request for media session with an internal user comes in on a dedicated port (usually 5060)<1>.
The SIP registrar is consulted to determine on which private address the recipient is located and the signaling is forwarded to the recipient<2>.
Once the two clients have agree that they want to set up a session the SIParator® sets up NAT and allows RTP streams through UDP ports<3> (port numbers as agreed during setup) and allows media to flow<4>.
SIP traversal: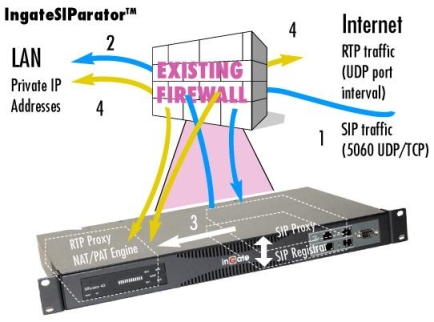 For more details about how Ingate SIParators work, see our product sheets and technical specifications. For more information or to purchase an Ingate SIParator®, please contact us at sales@ingate.com.