Ingate Wins EFICASIA Contact Center Business in Mexico
Using Ingate has dramatically reduced the time to provision new inbound campaigns from days to just minutes.
Read more

Ingate and Metaswitch Receive 2018 Customer Satisfaction Awards for SBCs
More than 3,000 customers evaluated their session border controller (SBC) providers in a new survey of 14 vendors conducted by Eastern Management Group, judging them on 10 customer satisfaction measurements.
Read more

Ingate Systems Announces New Partners in France and Belgium
Ingate expands its presence in Europe by aligning with two leading system integrators, Webcentric and ITP. Read full
Press Release

Major Software Release 6.2.1
Ingate Systems adds new call control, service orchestration and product management features to Ingate SIParator Session Border Controllers (SBCs) with new
software version 6.2.1
Interview with Ingate at ITEXPO 2019
Watch TMC interview where Ingate's Steve Johnson discusses Ingate's SBC advantages and cloud solutions with Amazon Web Services, Microsoft Azure, OpenStack and Google Cloud Platform.
Webinar - What SBCs Can Do for You
To learn what SBCs can do for you, view the webinar "8 Reasons to Use an SBC". Ingate Systems President Steven Johnson will discuss how SBCs address diagnostics, quality, reliability, and security. It was presented on Oct. 31 and the recorded presentation can be found here.
Ingate Recognized as Gazelle
in Dagens Industri and Ranked High in Deloitte Technology Fast 50 Top List


Ingate Systems was recognized in Dagens Industri Di Gasell business growth awards, in which Dagens Industri profiled established companies that at least doubled their growth for the past four years, and at the same time had organic growth and healthy finances. The list is published in the
December Issue of Dagens Industri.
Ingate weighs in on SBC trends
From virtualization to security, session border controller capabilities continue to evolve.
"Ingate Selected for Municipal SIP Trunking in Canada"
Read the press release here.
Ingate® Systems CEO Karl Stahl Honored as WebRTC Pioneer.
Ingate CEO Karl Stahl has been recognized as a pioneer in the emerging WebRTC market at the WebRTC Conference & Expo IV. Click
here
to read more.
Ingate's SBCs Explained - Video Interview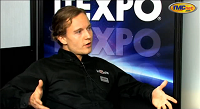 Watch video interview
with Christian Wannerwall, Marketing at Ingate Systems, talking about Ingate's participation at ITEXPO, Ingate´s products and some of the trends shaping UC today.