Kallelse till årsstämma
Onsdagen den 6:e december 2023, 13:00
Isafjordsgatan 30C, 164 40 Kista
Klicka här för mer information.
Ingate Doubles Performance of SBCs: S95, S97, S98 and S99
Ingate has renewed its high capacity, high performance SBCs designed for large enterprises, contact centers and service providers. The SIParator®/Firewalls S95, S97, S98 and S99 handle 8,000 to 80,000 concurrent calls (RTP sessions) and the S99 (an S98 with dual CPUs) is capable of transcoding 6000 G.729/G.722 calls or 1800 Opus. Read more in our
Newsletter
.
Ingate Streamlining Its US Operation
With Steve Johnson's retirement, Ingate has streamlined its US operation by expanding its 13-year relationship with its partner Computer Telephony Distributing (CTD) in South Carolina, which now is servicing the vast majority of Ingate's US customers at the same terms as before. Customers have since long interfaced with CTD through the Ingate Help Desk which they successfully have staffed together with Ingate Systems AB for over a decade. CTD also holds inventory and ship hardware products to North American customers. Read more in our
Newsletter
and
here
.
We Thank Steve Johnson, "Mr. SBC" for his 20 Years of Service
After 20 years of service, Steve Johnsson retired from Ingate Systems Inc., Swedish Ingate Systems AB's fully owned US subsidiary. Steven Johnsson brought the best-in-class Session Border Controller, the Ingate SIParator® to the American market.
Read more in our latest Newsletter
Ingate Products Resist Apache
Log4J Vulnerability
Mon 13 december, 2021
Ingate products do not use JAVA, and are therefore not susceptible to the Apache Log4j vulnerability CVE-2021-44228. Log4j does not exist in Ingate firmware.

Podcast Episode
, Podbean meets Steven Johnson, and Ernesto Casas from Ingate Systems, to define Ingate, understand the need of a Session Border Controller, and options for deployment.
What's to Come in Unified Communications in 2021?
2020 was a rollercoaster for the UC industry. 2021 brings even more uncertainty. UC solutions were designed for the kind of quick adaptation necessary for these fast-changing times. Read
What's to Come in Unified Communications in 2021?
by Steven Johnson, General Manager, Ingate Systems.
Ensure Sufficient Call Capacity
During the Crisis
The COVID-19 infection has led to shutdowns of public transport in several countries and many more people work from home or even from quarantine. We see that many now need to utilize voice and video calls to a much greater extent, which creates a high pressure on corporate telecom solutions. Ingate is fully operative and we encourage our partners to contact info@ingate.com. We can help by checking and evaluating your call capacity for the coming stressful months. For more information,
click here
.
Web Based SIParator® Certification
Due to COVID-19 and recent travel restrictions Ingate has changed the type of all SIParator courses into web-based alternatives. Contact helena@ingate.com and we will try to find the best solution possible.
Ingate's Certification Programs

Alliance Infotech - New Ingate Partner in India

We are excited to welcome Alliance Infotech to our growing partner network. Alliance is an ISO 9001:2000-certified Unified Communications distributor established in 1997, with more than 20 years of experience in CRM and computer telephony (CT) products and call center solutions.
Ingate Launches SIParator®/Firewall® S42 and S82 SBCs

The SIParator®/Firewall® S42 and S82 are flexible high-performance desktop/rackmount/wall-mount session border controllers with 1/10 Gbps SFP+ Fiber Ports
Learn more in our latest newsletter

Read press release here

New SIParator/Firewall S22 Released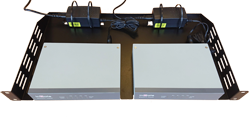 Ingate's popular smallest SBC appliance has been replaced with the new Ingate SIParator S22, which is now available for purchase. It's replacing the previous SIParator S21. The S22 is physically smaller, but scales twice as high, managing up to 800 simultaneous calls.
Learn more in our September newsletter

Read press release here

Ingate and Metaswitch Receive 2018 Customer Satisfaction Awards for SBCs
More than 3,000 customers evaluated their session border controller (SBC) providers in a new survey of 14 vendors conducted by Eastern Management Group, judging them on 10 customer satisfaction measurements.
Read more

Ingate Recognized as Gazelle
in Dagens Industri and Ranked High in Deloitte Technology Fast 50 Top List
Find the list in Dagens Industri here
Ingate® Systems CEO Karl Stahl Honored as WebRTC Pioneer.
Ingate CEO Karl Stahl has been recognized as a pioneer in the emerging WebRTC market at the WebRTC Conference & Expo IV. Click
here
to read more.
Watch video interview
with Christian Wannerwall, Marketing at Ingate Systems, talking about Ingate's participation at ITEXPO, Ingate´s products and some of the trends shaping UC today.