Ingate Remote SIP Connectivity
For businesses that want to connect with home office workers and road warriors, Ingate® Systems offers Remote SIP Connectivity, that enables far-flung users to leverage the benefits of VoIP, instant messaging, presence, video conferencing and other forms of communications based on the SIP protocol that are already integrated into the company's network.
With Remote SIP Connectivity, employees can enjoy the efficiency of SIP communications no matter where they are: in the office, at home or on the road. SIP-based person-to-person communications are expected to be the next evolution of Internet usage after email and the Web, offering businesses rich communications options. However, SIP-based communications do not reach users behind firewalls and NATs automatically. Enterprises can connect their private networks (the LANs) to the SIP world by using SIP-capable firewalls or SIParators from Ingate. However, until all firewalls can handle the SIP protocol, there will be many situations where SIP communications, e.g. VoIP, will not function. This can be the case when, for example, there are home workers using SIP-unaware residential firewalls, or when employees "on the road" want to leverage the benefits of SIP-based communications from their hotel rooms. Remote SIP Connectivity is included in all Ingate Firewalls and Ingate SIParators that will handle many of these situations, allowing users behind most remote (non SIP-aware) NATs and residential firewalls to communicate via SIP through the enterprise equipped with the Ingate Firewall. Remote SIP Connectivity makes it possible for businesses using an Ingate Firewall or SIParator to allow their employees working at remote locations to use the SIP communications implemented in the enterprise.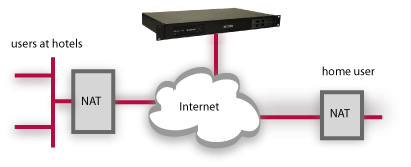 For additional information on Ingate Remote SIP Connectivity, please contact info@ingate.com.