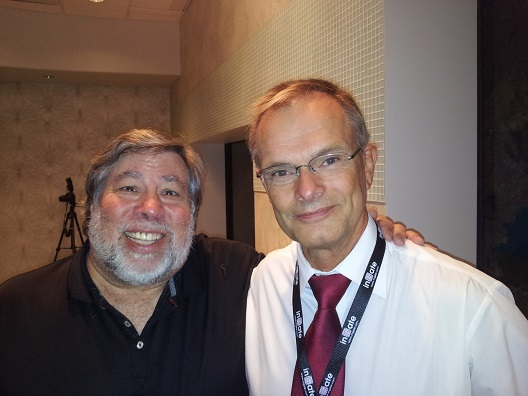 One exciting event was the keynote speech by "the Woz", Steve Wozniak,
cofounder of Apple, here with the Ingate CEO Karl Erik Ståhl.


The following is from the conference program:
www.tmcnet.com.west/conference-program


Enabling the Internet for Real-time Communications
Ernest Cunningham - OneSource Networks
Phil Edholm (Moderator) - PKE Consulting LLC & UC Strategies.com
Steven Johnson - Ingate Systems - Ingate's Presentation
Andre Parreira - Internet Business Technologies (IBT)/Realtime
Next Generation Service Providers
"As we continue to witness an onslaught of multimedia capable devices, all of which are being connected to the Internet, and with emerging technologies, like WebRTC and other OTT services, poised to leverage those devices to drive a new age of communications, the question must be, is your communications network up to it? With SIP having the same capabilities, it has not really been tested, since Telcos built PSTN/POTS replicating networks that have deprived us of 50 years development. It is not only about bandwidth; QoS can bring the user experience a magnitude higher when data and real-time traffic share the same network. Enabling quality on the Internet is quite easy, but meaningless if there is no "toll to enter the highway." This session will discuss how to ensure your network is ready to handle the next wave of communications traffic, but also how you can monetize it."


---
Service Providers: Smart Ecosystem Facilitators or Dumb Pipes?
Peter Bernstein (Moderator) - TMC
Glen Gerhard - Sansay
Steve Gleave - Metaswitch
Nancy Maluso - Sonus Networks
Karl Stahl - Ingate Systems AB
Craig Walker - Firespotter Labs/UberConference
Interactive Panel Discussion
"In a data-driven world, what will be the role of network operators? Will they be "dumb pipe" companies, or will they leverage their unique assets —communications infrastructure, connectivity, market coverage and customer intimacy — to emerge as the hubs of dynamic global ecosystems? Rhetoric on this subject has been replaced with reality. New capabilities and services are being developed and delivered to customers in multiple form factors on multiple screens, and developments like virtualization, WebRTC, and CDNs further threaten the value of the network operator as a traditional service provider. The coming months will require a strategy decision on the part of network owners: Will they cede the high value-added ground to others or succeed in building ecosystems around themselves that will drive growth? Should operators move to NFV to become more agile? How much consolidation will we see and what will its impact be?"



---
SBCs – A Must for Your Enterprise IP Network
Jeff Dworkin - Sangoma
Ashish Jain - GENBAND
Steven Johnson - Ingate Systems
Dave Martin - Edgewater Networks
Alan Percy - AudioCodes
Marc Robins (Moderator) - SIP Forum
Lee Tannenbaum - Sonus
Interactive Panel Discussion
The migration from traditional to IP-based communications services continues – and we are now well past the early adopter phase, with businesses every day realizing their existing infrastructure alone will leave them trailing their more agile competitors. The session border controller (SBC) has become a key component of the enterprise migration strategy, helping support the migration to Unified Communications without abandoning existing technology investments. Enterprises that have embraced SBCs have shown they can securely extend communications to external parties, unlocking new ways of collaborating with clients, partners, distributed employees and the supply chain.